Online Videos
Introducing a new way to see what Gay and Christina are teaching! Online videos! By popular demand!
We are working hard all summer to bring our watercolor journaling followers some new content online to help get you going on your own journals at home. This fall we will be coming out with a new set of online videos to teach you various techniques from our watercolor journaling classes. Gay and Christina went to Death Valley, CA in March of 2012 to see the natural beauty and find some great vistas and close ups to use to teach. Check out the introduction to this series below:
Also, check out what happens in a local Illustrated Watercolor Journaling class when Gay teaches how to paint a face quickly with watercolor. Fast and fun! Wow.
Be on the lookout for our announcement of our online videos coming out Fall 2012!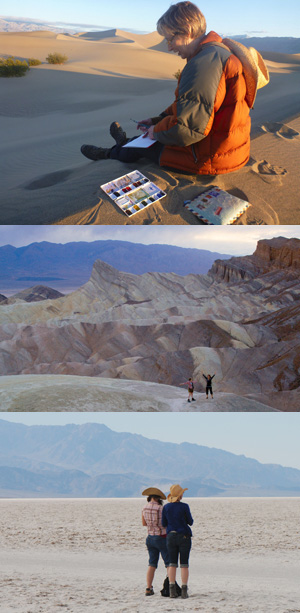 Have a link or video you think we'll be interested in? Send it to us! info@watercolorjournaling.com