"I never travel without my journal.
One should always have something sensational to read..."
- Oscar Wilde
Join us on Flickr


View recent pages from Christina and Gay's journals, along with many other students! And, if you'd like to join, you can scan your pages and share with everyone!
Check out:
Watercolor Journaling
Flicker Group Pool

Welcome!
These days it seems that everyone has some kind of online journal or blog. For nearly 15 years, amateur and professional artists Gay Kraeger and Christina Lopp have been teaching how to create a journal of your own, but on paper with drawings in pen and watercolors. Teaching in their one-day workshop and 6-week long classes (as well as some fun art retreats), they have been introducing students to the basics of drawing & watercoloring in a format that is well-suited for personal journals.
As the world gets more immediate, more online and easy to delete, the journal is a low tech, highly tactile method of capturing aspects of your world. A variation on the written journal is an illustrated journal -- adding the richness of hand drawn images to words.
Taught by Gay Kraeger and Christina Lopp, all of the workshops are recommended for artists and non-artists alike. It is a non-threatening, easy-going class that covers the basics of drawing, writing, watercoloring and journaling.
In the class, Illustrated Watercolor Journaling students learn how to pay attention to their world and see -- then draw -- things that are important to them. Anything might strike fancies – a child's soccer game, the first tomato of the season, or images from vacations. Life won't be boring again.
We are teaching at some new locations. Take a look on our Classes page.
Our DVD
After more than three years of work, Gay and Christina, along with their producer/director/editor Jerome Domurat, have completed and released their first instructional DVD Beginning Watercolor Journaling. Take a look here for more information about the disc.
Connect with other members using Yahoo Groups
Looking to connect with other members of the Watercolor Journaling community? Looking to find someone to draw with in your area? Click here to learn more about communicating with each other!
Flickr Group Pool site
We found a way to easily update a Flickr site with images from both Gay and Christina's journals (something many of you have been asking for!), as well as a place for all of you to share pages from your journals. Take a look at the Flickr Group Pool site. If you'd like to join, look for the words "Only members can add to the pool. Join?" and click on Join to become a member. We'll make sure you are added to the list!
The comment they hear most upon showing their journals is:
"I wish I could do that!"
Their answer is a resounding:
"You can!"
Online Videos
are here!
Gay and Christina travelled to Death Valley, CA to discover some new ways to teach. Take a look at the classes offered!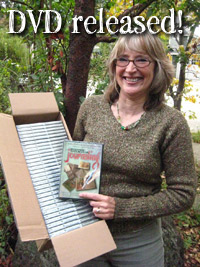 Our first DVD, Beginning Watercolor Journaling is for sale! Click here