"There is no must in art
because art is free."
-Wassily Kandinsky
Our Journals
A new way to view our journal pages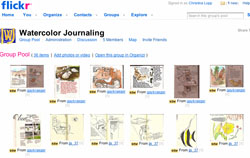 Gay and Christina have found that it seems to take a long time in between updating our website with pages from our journals, so we've found a new way to make updates easier for us, and make a way for other students to share their work.
Take a look at our new Flickr Group Pool to view new pages. You can also Join and add your our pages.
Archives 2001 | Archives 2002 | Archives 2004 | Archives 2005 | Current work

Gay's Journal 2007

Christina's Journal 2007

To view Gay's latest journal pages on
Flickr click here
(click on image for larger version)

Archives 2001 | Archives 2002 | Archives 2004 | Archives 2005 | Current work